User:IKD
Space Research Institute of the National Academy of Science of Ukraine and the National Space Agency of Ukraine (SRI NASU-NSAU)

These are the official name, the FP7 acronym, and the logo of our Institute, silly as they are. The names "SRI" or "IKD" or "Space Research Institute" are OK for communication purposes and other informal usage.
In AFFECTS we are involved in short-term forecast of the geomagnetic indices Dst, Kp and derived thereof. Short-term means 3-4 hours lead time. The results of our work will be implemented in the DLR's SWACI system as a Geomagnetic Forecast Module of the Forecast System Ionosphere.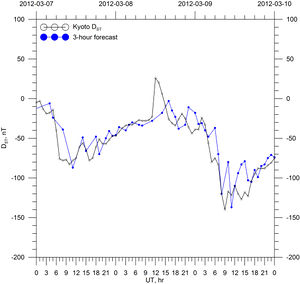 An example of our forecast is presented on the picture.